Ohhh, God. See how a BLUE friend in Hong Kong brighten up the Blue Journal in Flickr !! By
Patrick
.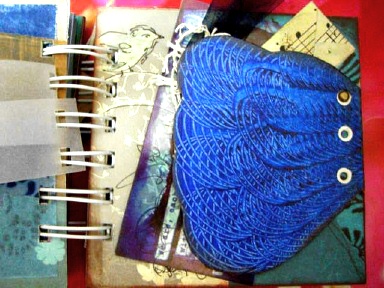 "We are, each of us angels with only one wing, and can only fly by embracing one another" - was digitalized in a OHP sheet . The blue wing was created by pasted paper using glue and acrylic.
The swap project was launched in early June. Gathered a precious collection of 25 artists "BLUE". We each submitted 25 individul 4x4 inch artwork with the theme of "blue" and a set of cover (the cover was not for swap). Find out more from my
Flickr
ablum. It was such a wonderful blue journey. Again, sending my BIG BIG hug to
Yui-san
, scrapbooking artist and two artistic friends -
Niko-san
and Amanatsu-san.
Blogging from Hong Kong.